---
New address
We are now in
Wicklow Town.



Mills & More
7 Bellview Court
Greenhill Road
Wicklow Town
Co. Wicklow
tel: 0404 62387
mob: 086 8429802
---
The Golden Point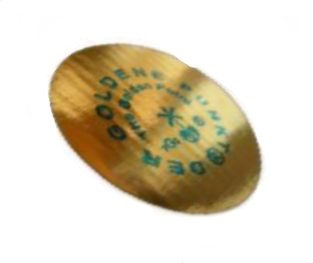 The Chip which neutralises electromagnetic pollution
Every day we are surrounded by sources which create artificial electromagnetic fields (EMF). If the human body is influenced by EMF the control commands from the brain can no longer be routed correctly.
This can result in malfunctions. In addition, the cell metabolism is not regulated correctly, which can lead to organ malfunctions and, with long-term exposure, to tissue changes. We will fall ill.
The Golden Point
harmonises the body's own bio information field and thus increases its resistance to electromagnetic fields of different frequencies.
Mobile Phones:
Without protection device on the mobile phone the brain has to compensate increasingly to be able to keep up its normal working capacity. This is shown by a very dense Delta activity with very high amplitude.


Thermography without The Golden Point
With The Golden Point on the mobile phone, pulsed Delta activities are generated, which enables stress-free communication between the two halves of the brain.


Thermography with The Golden Point
---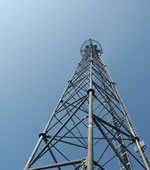 Health is more than just the absence of illness.
---
How does The Golden Point work?
The golden point consists of a triple-layered foil.
Following long-term experiments the inventor succeeded in achieving a strong transmittal of original biological energy to a metal chip.
This was proven by Prof. Dr. W. Smith 'Ä?a worldwide leader in electro-physics dealing with frequencies from very low to 96 megahertz.
The manufacturing process is patented and the data storage can be compared to that of a CD.
On occurrence of an electromagnetic radio wave, the chip will overlay the disturbance with its stored natural frequency, i.e. it will transmit the 'Äúbiologically correct pulse'Ä?to the radio wave. Thereby the aggressive, a-thermic overloading of electromagnetic radiation can be effectively eliminated.
The Golden Point is neither electrically nor magnetically charged.
Its effect is not due to esoteric or homeopathic processes.
The Golden Point does not shield!
Shielding measures cannot solve the problem because any attempt at shielding leads to an increased output of the mobile phone to balance the shielding effect during use. Any increase in output can only result in an increase in radiation.
Scientifically proved to be effective by
EU research in accordance with the stipulations of the European Parliament STOA Programme

Institute for Communication and Brain Research, Stuttgart, Germany

IMEDIS System developed by the Institute of Intellectual Medicine Systems, IMEDIS, Moscow

Thermography
Where can it be used?

In the office: Computers and work stations, electrical office appliances, photo copyer, neon lamps, etc.

Telephone systems: Mobile phones, cordless phones, main line phones, fax machines etc.


At home: Computers and work stations, neon lamps, TV's, remote controls, mobile phones, cordless phones, etc.
The protective effect of THE GOLDEN POINT has repeatedly been scientifically proven on both a physical and biological level.
---
The Golden Point comes in three sizes:
Size I (Ø 25mm) is for: mobile phones, computer mouse, remote control, video recorder, etc.
Size II (Ø 35mm) is for: cordless phones, desktop phones, electric typewriter, fax machine, printer, loudspeaker, modem, phone answering machine, neon lighting, photocopying etc.
Size III (Ø 40mm) is for: personal computer, laptop, TV sets, etc.
---

Sojamat milk maker

It's so easy to make soya milk!

With the appliances from Mills and More
You only need about 80 'Ä?100g soya beans per litre (1 measureing cup).
Rinse the soya beans carefully and remove any stones or other debris.

Soak the beans for 6-8 hours (warm water reduces the soaking time). Again rinse thoroughly.

Fill the filter container with the beans and

Attach to machine

Fill with water

Attach the top part of machine onto the water container.

Plug in.

Press the ON key.

After about 19 minutes the Milk Maker turns off automatically, and you have fresh, warm soya milk, which you can flavour to your own taste. You are in control of all the ingredients.

Preparation time includes: heating process - grinding - mashing - filtering - and cooking
---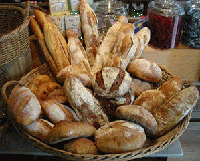 Spelt Bread
1 kg /2lb spelt grain

1-2 tsp salt
1 tbsp vegetable oil
25g / 1oz fresh yeast or equivalent amount dry yeast
725 ml / 1½ pt warm water (37°C 'Ä?100°F)
15g / ½ oz black sesame seeds
1 tsp caraway seeds
1 tsp fennel seeds
1 tsp coriander seeds
1 tsp anis seeds
1 tsp cumin seeds

Mill about 100g of spelt and

place the flour in a large mixing bowl. Blend the yeast into half the water and roughly mix into the flour.

Put the spices and the rest of the spelt grains into your grain mill and mill them together.

Add the (proofen) yeast mixture to the flour. Add enough water to make a smooth dough. Then add the oil. Mix the dough vigorously for four minutes using a wooden spoon. Cover in a warm place and leave to rise for 1 hour. Knead the dough again, then oil two 2lb loaf tins and divide dough between them. Sprinkle with sesame seeds then cover and leave to rise in a warm place for 20-30 minutes.

Cook in a pre-heated oven (place a pot of hot water in the oven) to 160°C (320°F) for 40-60 minutes.

Enjoy!
---
Whole grain components: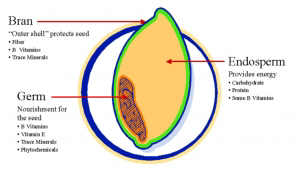 Nutrients in the grain
The three main parts of each whole grain contain different nutritional benefits.
Bran-Fiber, B vitamins, trace minerals

Endosperm-carbohydrate (resistant starch, some fiber, inulin); plant protein; some B vitamins

Germ-B vitamins; vitamin E; trace minerals; essential fatty acids; phytochemicals.
Whole Grains and Phytonutrients
Phytonutrients and phytochemicals are key aspects of disease prevention. Whole grains contain many different beneficial phytochemicals and nutrients. They include:
traditional nutrients and fiber

resistant starch

lignin

antioxidants

inulin and fructooligosaccharides

phytate

saponins

plant stanols and sterols (phytoestrogens)

waxes, cutin and suberin

sphingolipids
---
Upcoming events:
1st July Natural Health Day at Sonairte (Laytown, Co. Meath)
4th July Shiatsu demonstration in Dublin Food CoOp Pearse Street.
14th July first Dublin Food CoOp market in New Market Square
15st July Farmers Market at Sonairte (Laytown, Co. Meath)
---
Other products from Mills and More:
Grainmills

Flaker

Yogurtmaker

Milk maker

The Golden Point
---
... and finally:
The Toy
The father of five children had won a toy at a raffle. He called his kids together to ask which one should have the present. "Who is the most obedient?" he asked. "Who never talks back to mother? Who does everything she says?"

Five small voices answered in unison. "Okay, dad, you get the toy."
---
Mills and More