VEGAN STAR ― Milk Maker
Make your own vegan milk
SOY MILK - RICE MILK - ALMOND MILK - NUT MILK etc.
SOY YOGHURT - TOFU - BABY FOOD - SOUPS
VR 1 professional
the first milk maker also without filters
now even more capacity: holds 250 grams of ingredients

as many chopping cycles as you want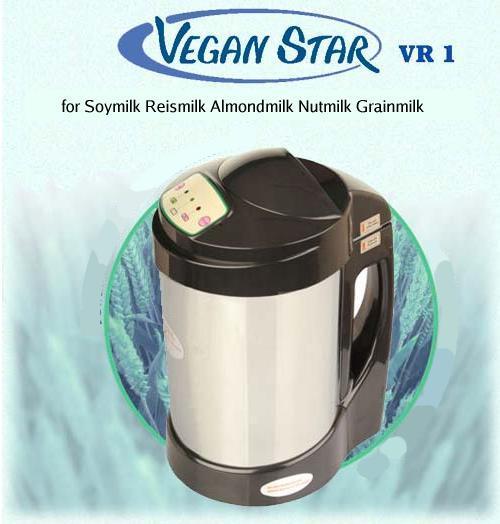 You are always one step ahead with Vegan Star
Using the latest technology
First milk maker without filter
Now with greater capacity
For ten years now vegan milk makers under the name of VEGAN STAR are sold throughout Europe.

Among the first to work with these machines, we consider ourselves pioneers in the field. And this know-how is paying off today!




The vegan milk maker market has seen an incredibly rapid development.




The advantages of home made vegan milk are obvious:
always fresh milk in the fridge - made quickly any time

you decide what quality ingredients and water you use

highly nutritious, full of vitamins, minerals and vital substances

not homogenized, no preservatives

no chemical additives - 100 % natural

milk can be sweetened to your taste
Healthy eating is easy with VEGAN STAR! With a milk maker you can put healthy goodies on the table quickly.

Delicious drinks, soups and healthy, easily digestible food for babies and toddlers and for the elderly!




When making vegan milk the solids remain in the filter or milk maker. This very nutritious substance can be used for spreads, soups, sauces, dips, burgers, creams and puddings and lots of delicious, tasty deserts.

Our operating instructions contain many useful hints and great recipes




Home made is cheaper!

1 litre of home made soy milk only costs around 0.30 Euro

That's about 10 % of what you pay in the shops!

All you need is 100 g of soy beans, water and a little electricity!

Depending on your daily consumption, the investment will pay off within a few months!



Even its optical features - clear-cut shapes and smooth surfaces - make the new milker a delight to work with.
But the biggest advantage is that you can use it WITHOUT a filter.




This appliance is developed with thought of:
excellent stability and wide, stable handles

even more content now: 250 grams! VEGAN STAR VR1 is the first model that allows you to use up to 250 g of soaked soy beans to make top-quality milk!
It's obvious: The more soy beans you use, the creamier and tastier the milk.
three fully automated programs for soy milk, paste and a personal program that fulfills all individual needs (water temperature and number of chopping cycles are individual)

six fixation points for the filter instead of the usual three - if you want to use a filter.

four-bladed knife for perfect chopping

two special stainless steel filters with extra wide handles

bottom heater for very gentle heating and extremely simple cleaning

temperature control and timer: Together with the timer, the thermostat in the VR 1 ensures that all the necessary programs run at the right time, at the right temperature and for the right duration.

This program management also prevents the milk from boiling over or burning.
Added security:
separate ON/OFF switch - allows appliance to be stopped immediately!

Security switch stops the machine when separating top part from bottom part

Overflow protection controls and prevents milk from overflowing

Overload protection prevents overheating of engine
2-year warranty

CE The machine meets all European security requirements




That's how easy it is!
Open and remove top part

Put one measuring cup of ingredients directly into the water pot

Add cold water

Replace top part

Plug in - start program
Now everything is done automatically - when making soy milk and paste, the water is heated, ingredients are chopped and the milk boiled when it is finished.

Did you know that:
One in seven western Europeans suffers from lactose intolerance?

Especially babies and toddlers often show allergic reactions to cow's milk?

Cow's milk frequently plays a central part in allergies?
Sole Importer to Ireland
Mills and More
Mills and More | © 2007 | e-mail: Veganstar@MillsAndMore.eu | Regnr: 319352 | VAT RegNr: IE2142025D